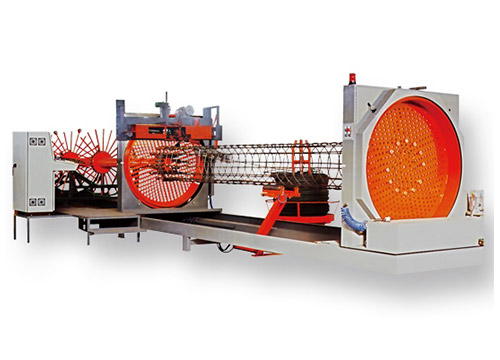 HL1500B-12 Pile cage welding machine for cylindrical piles with welded spiral and programmable pitch
More Detail Pile Cage Welding Machine HL1500B-X
Characteristics of Pile Cage Welding Machine HL1500B-X

HL1500B-12 Pile cage welding machine for cylindrical piles with welded spiral and programmable pitch.
Automatic control, with manual functions.
Fully automatic welding for the cage diameter 800 - 1500mm.
One operator only is required.
Reduced production time.
Programming and control by computer.
Simple and efficient feeding system and functioning cycle.
Technical Data of Pile Cage Welding Machine HL1500B-X
| | |
| --- | --- |
| Min. pile cage diameter | 800 [mm] |
| Max. pile cage diameter | 1,500 [mm] |
| Max. cage length | 12,000 [mm] |
| Spiral wire diameter | 8 – 16 [mm] |
| Longitudinal bar diameter | 14 – 32 [mm] |
| Spiral pitch | 50 – 300 [mm] |
| Welding speed | 60 welding spots/min |
| Installed power - welding | 20 [KW] |
| Installed power for rest of machine | 20 [KW] |
Scope of Supply of Pile Cage Welding Machine HL1500B-X

| | | |
| --- | --- | --- |
| No. | Description | Quantity |
| 1 | Complete pay-off | 1 Unit |
| 2 | Longitudinal bar feeding and reel support unit | 1 Unit |
| 3 | Fixed standard disc | 1 Unit |
| 4 | Movable standard disc | 1 Unit |
| 5 | Cage support unit (with hydraulic device) | 1 Unit |
| 6 | Electric cabinet and control system | 1 Unit |
| 7 | Manual welding device | 1 Unit |
| 8 | Free spare parts | 1 Unit |
| 9 | Tools | 1 Unit |
| 10 | User's manual | 1 Unit |
Free Spare Parts of Pile Cage Welding Machine HL1500B-X
| | | |
| --- | --- | --- |
| No. | Components | Quantity |
| 1 | Guide roller of payoff | 2 pcs |
| 2 | Fixed bored plate | 1 pcs |
| 3 | Mobile bored plate | 1 pcs |
| 4 | Anchoring bushes (Φ28) | 50 pcs |
| 5 | Anchoring bushes (Φ40) | 32 pcs |
| 6 | Hydraulic valve | 2 pcs |
| 7 | Limit switch | |