Double Coil Wires Mesh Welding Machine HW-WZD12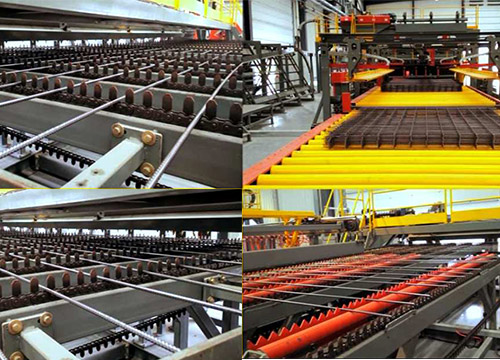 LAYOUTCharacteristics:Different diameter wires can be mounted on the wire payoffs at the same time, it can automat
Features of Double Coil Wires Mesh Welding Machine HW-WZD12
| | |
| --- | --- |
| | Different diameter wires can be mounted on the wire payoffs at the same time, it can automatically choose the wire in need. |
| For example, 6mm, 8mm,10mm,12mm wires are mounted on the four wire payoffs(line and cross wire payoff), different wires can be automatically changed in the wire automatically change the system, it's a huge time saving and lower cost. | |
| | Both line and cross wires are coils, no need pre-cut, more efficient and safer operation. |
| Cross wires can be dropped on the face side or the back side of the Cross wire discharging unit, no need to turn over the mesh for saving the space, no need to purchase the mesh turnover unit, it's a huge time and space saving, and lower cost. | |
More Detail Double Coil Wires Mesh Welding Machine HW-WZD12
Characteristics of Double Coil Wires Mesh Welding Machine HW-WZD12
Different diameter wires can be mounted on the wire payoffs at the same time, it can automatically choose the wire in need.
For example, 6mm, 8mm,10mm,12mm wires are mounted on the four wire payoffs(line and cross wire payoff), different wires can be automatically changed in the wire automatically change the system, it's a huge time saving and lower cost.
Both line and cross wires are coils, no need pre-cut, more efficient and safer operation.
Cross wires can be dropped on the face side or the back side of the Cross wire discharging unit, no need to turn over the mesh for saving the space, no need to purchase the mesh turnover unit, it's a huge time and space saving, and lower cost.
Technical Data of Double Coil Wires Mesh Welding Machine HW-WZD12
Working specifications:

Max. mesh width (cross wire length)

2,800 [mm]

Max. mesh length (line wire length)

6 [m]

Line wire spacing

100 [mm], freely adjustable

Cross wire spacing

50 - 400 [mm], The increment in multiples of 50 mm

Line wire diameter

Φ5 – Φ12 [mm] (off-coil)

Cross wire diameter

Φ5 – Φ12 [mm] (off-coil)

Max. welding capacity

Φ12 + Φ12 [mm]

Max. welding speed

80-120 [strokes/min] (cross wire no°/min)

Air consumption

≥0.6Mpa, 3.5m3/min

Cooling water consumption

≥0.2Mpa